What a beautiful and wonderful day!! Deo gratias!
Friends, as we bring the final few hours of this two week donation matching challenge to a close – I want to thank you SO much for your generous support, especially to those angels who have donated multiple times over the last couple weeks. Just about 3.5 hours left until the challenge ends, and so far your gifts to be matched have reached a wonderful $6,470 (as of 8:15pm PST). WOW. :D.
L-R Fresno seminarians Jorge A. Cruz, Oscar Anaya, ME! and Lisa Hendey
Today I was a guest on
KNXT's Making the Grade
talk show with the famous and wonderful Lisa Hendey – creator of
Catholicmom.com
. We were joined by two of our seminarians for the Diocese of Fresno, and we discussed fostering vocations in the home. What a blessing! THEN I headed over to the St. Paul Newman Center for a lovely time being interview about my vocation for
Newman News
– for a segment they are doing on wrapping up World Youth Day. How amazing to get to share my vocation with a bit of a wider audience in Fresno!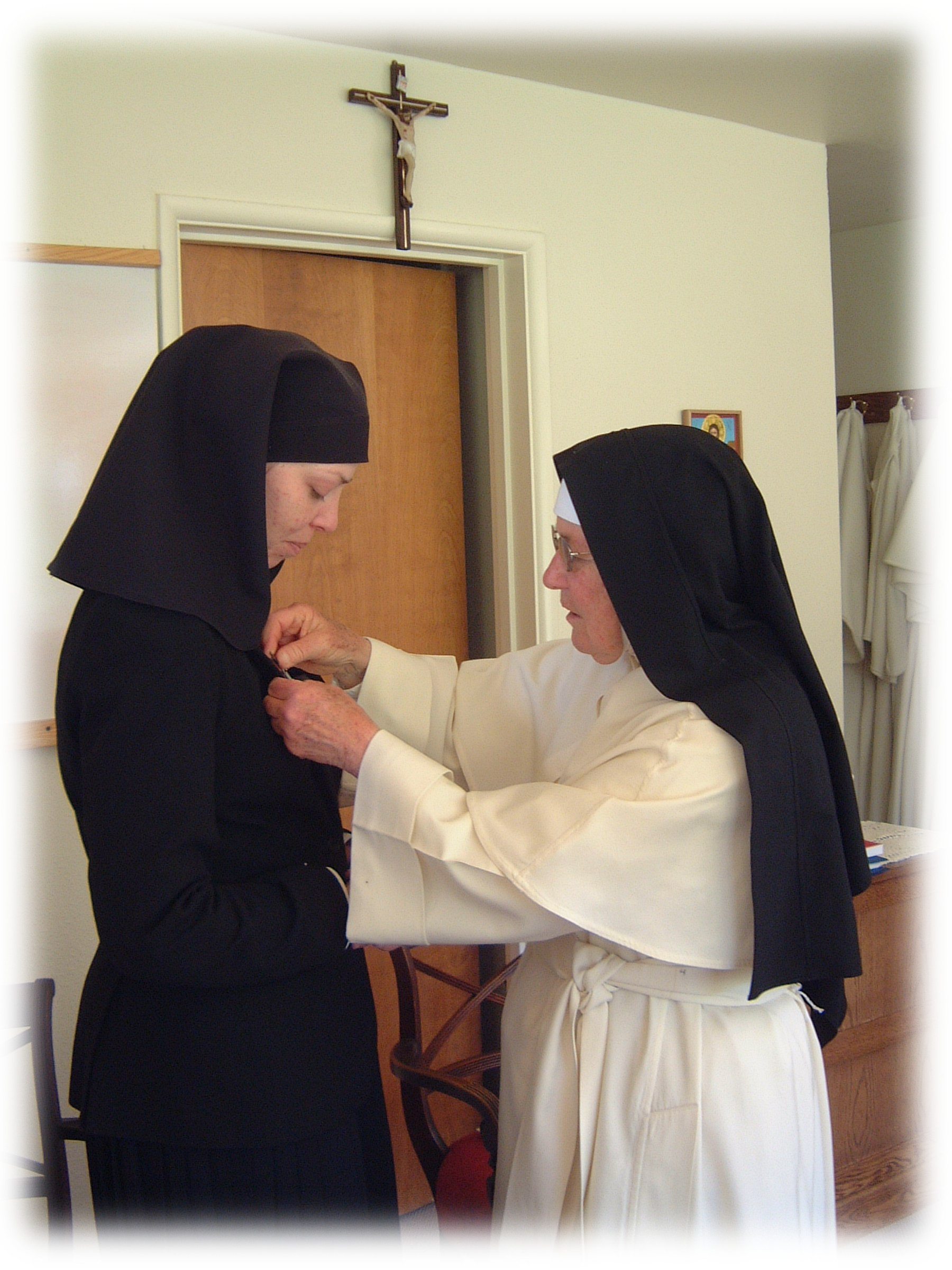 Mother Mary Augustine giving Sr. Mary Magdalene a pin
just after her entrance. This is what we will look like for
the first year. We will (God willing) become novices on
June 6, 2014. Then we will have white habits & veils,
and new religious names :). Sr. Mary Something...
In the midst of all this I received a most joyous email from Mother Mary Augustine – she informed me that there will be another young woman entering with me on the 28
th
. I've met her twice and am so happy that she has answered God's desire for her to enter on the Feast of St. Augustine! She had originally planned to enter after the beginning of next year. I don't know what changed… but could it have anything to do with our dear St. Rita & St. Jude? I am so excited that I will have a postulant companion… its is quite imprudent but I can hardly contain myself! God is so good.
On top of everything else, I started this morning off with the most beautiful run I have had in a long time, and came home to a message from a new television network set to launch this fall… that they are interested in doing a profile on me. By the time it airs I will have entered already, but to know that if it is God's will for the interview to happen – that a great number of young people might be exposed to the idea of religious life, who might never have had that exposure before. Please pray with me, friends, that God's will be made manifest in every moment of my life, especially now in these last 4 weeks leading up to my entrance date. And pray that the Lord will send me more generous souls, like you, to help pay down my loans as much as possible, and as soon as possible! God bless you and keep you, and make you into saints!